For the average hair type (rating 8.7/10), it is a good performer. If used correctly, for the average hair type it offers a reliable strong hold for short-medium length hairstyles. If you use a blow dryer and want a texture matte finish, this product could be for you.
If you're on a budget (good value rating 8.2/10) and just need a product to cover the essentials then Oasis Clay can do it all, suitable for pre and post application. It can be a bit expensive if you live outside the US, but it comes in a good sized jar. If you have the right hair type, then this could quite easily be a daily driver. It's pre and post styling capabilities deliver good styling convenience and consistency.
If price isn't an obstacle and you're opinion of value is just the products quality (you're expected value is 9.4/10), then this a great product to add to your arsenal. With healthy ingredients and brilliantly lasting hold, it competes with other premium products out there.
Overview 
Templeton Tonics have done a stellar job with this one. Oasis Clay hand down is one of the best products I have ever used. The hold is brilliant giving a durable, matte, reworkable and long lasting finish to get you through the entire day. It is made from premium ingredients looking after that hair of ours, and a selection of scents to please everyone. I went from using about 3 at once products to get a style that might get me through the day, to a single product that powers through comfortable. 
Price and Affordability 7.9/10
$$ Premium Range Price 
Priced at $18 USD (£20 & $30AUD) for 4oz, Oasic Clay isn't cheap, but for what you get, it is good value. The added benefit is that since Oasis works so well, it doesn't require you to use any other products. 
What is it
Oasis Clay is a matte finish, high holding styling clay that gives a resilient, texturized style. It's consistency and styling reaction is like a clay paste. It scoops like a cream and applies easily, but with a slight stickiness to damp hair, it sets after styling with a blow dryer for a textured matte finish and a gritty dry feeling.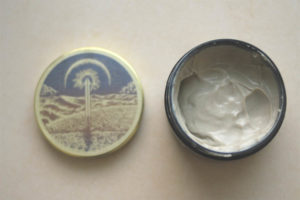 Who is it for 
If used right I think Oasis could be used by just about anyone. As a post styler the tackiness can be a bit rough on fine hair, but when applied before blow drying, you rarely need to apply much more afterwards. Getting more specific, Oasis will likely perform the best for people with shorter to medium length hair who you want a messy matte style, but the hold could be used for more tamed styles as well. It is a bit of a pricey product when buying outside the US, but it has the potential to simplify your hair styling routine and achieve long lasting results, which, for me, makes it worth the premium price. 
How and when to use it
A little goes a long way, so be careful not to use too much otherwise your hair might feel sticky for the next few hours.Take the desired amount and rub it evenly across both palms, distribute the product evenly throughout your slightly damp or dry hair. Start with the back of your head and work your way to the front. Use it before blow-drying for easier application lots of volume. Use after blow-drying for added hold and shape, but be careful tacky tug in when the product is applied to dry hair..  Add more product as needed. Experiment to create your own style.
Where to buy it
US:  Templeton Tonics https://www.templetontonics.com/shop/oasis-clay
UK:  SLICKBOYS https://slickboys.co.uk/product/templeton-tonics-oasis-clay/
AUS: The Pomade Shop  https://thepomadeshop.com.au/collections/all/products/templeton-tonics-oasis-clay
Hold 8.2/10
Oasis has a reasonable lightweight strong texturized hold that holds up throughout the entire day. It may start to droop a bit in very humid or wet conditions, but it holds up very well for a water based product. It is easily reworkable throughout the day, though if you apply too much it can have a bit of a sticky tacky feeling. The feeling softens slightly after a while, but the hold stay strong all day.
Application 7/10
It is paste-like to the touch and breaks down easily in your hands. It starts to react and set upon contact with your hair, so for best results you need to apply to damp hair and then blow dry. If you apply the right amount, you likely won't need to apply more after blow drying. Application to dry hair can be rough as the product has a tacky tug, so you need to be careful if you have sensitive hair. I typically use this in place of a pre and post styler as the product is enough on its own. For shorter styles you could easily get away with this being the only product in your arsenal, but if you've got longer or finer hair, you might what a smoother finishing product. 
To clarify, the application is a 7/10 if you apply to damp hair. If you were only using it as a post styler, the application would be a lot rougher and less pleasant. 
After blow drying:

After applying more and post styling in dry hair: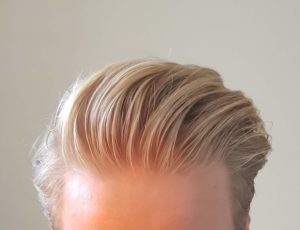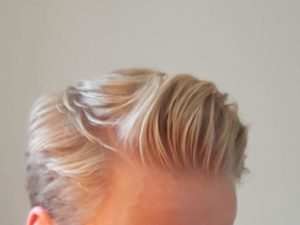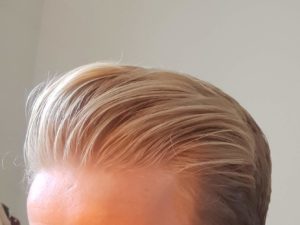 Scent 8.4/10
If you're a bit picky, Templeton Tonics have a scent for everybody. When purchasing Oasis clay you have the option of choosing from 5 different scents, which is pretty cool in my opinion. Personally, I bought the Heritage which my girlfriend loves, but I didn't really like. The aroma is quite strong even once in your hair, so make sure you choose a scent you will like. 
Below are the scent option as described on the Templeton Tonics official website:
Trailhead:
Cedarwood, Fir Needle, Sage, Oakmoss, and Fern.
The crisp spice of the cedarwood is balanced by the clean sweetness of silver fir. The slightly powdery scent of oakmoss are accompanied by the sharp herbal notes of sage and damp fern.  
Nomad:
Spiced Vanilla, Oud, Sandalwood, Ambrette Musk, and Incense Notes.
Nomad is the newest addition to my lineup of personally made fragrances.  It conjures up dreams of somewhere exotic and somewhat magical. The sharp notes of spiced vanilla waft through the air, mingling with the haze of incensed cedar and myrrh.  Balsamic notes of oud and sandalwood form a fine, aged woods base, and are mellowed out by the sweet musk of ambrette.  
Heritage:
Bergamot, Lemon, Wild Mint, Vanilla, Spike Lavender, Oakmoss, Sandalwood, and Musk
Heritage is my tribute to the age-old trade of the barber.  When my grandfather returned from service in the Pacific front of World War II, he opened up a barbershop and kept his small town looking sharp.  A passion for grooming runs deep in the Templeton family, and this scent captures this proud legacy. Sharp and herbal, but sweet and fresh.
Aeventus:
Bergamot, Black Currant, Pineapple, Apple, Smoked Birch, Patchouli, Jasmine, Musk, Oakmoss, Ambergris, and Vanilla.
Inspired by a legendary and complex cologne, Aeventus is a sophisticated, fresh, fruity, and slightly smokey scent that is sure to turn heads and get you compliments.
Ritual:
Desert Sage, Cedarwood, Sandalwood, Spicy Vanilla, and Incense Notes
Inspired by the tradition of purifying a room by burning sacred woods and herbs as incense, Ritual is a blend of some of the most common sacred notes that have been highly regarded for their supernatural character throughout the ages.
Durability 8.8/10
With short hair (4 inches), I have no trouble getting through the day using Oasis Clay Matte as my pre styler without the need to add more in post. It maintained hold, texture and volume throughout the day, and was easily reworked back into shape if some strands fell lose. While at the start of the day it can feel a bit sticky to touch, after a while it starts to feel softer and natural. Now that my hair is a bit longer, it doesn't feel as durable and I find myself reworking my hair a bit more throughout the day, but my hair endures a lot throughout the day.
From gale winds to hot warm manual production environments, and sunshine to rain, Oasis has remained lifeproof for me. I am impressed. It holds up to a bit of rain, sweat, movement and wind and remains present in the hair for reworking after with only small losses in hold.  So if you use it on the right hair length and blow dry to style, it is lifeproof. 
If left in overnight, you'll need to use a bit of dry shampoo and add a bit more product, but it still works as a second day product if you need to skip a shower to save time the next day.
Ingredients 8.8/10
Water, Candelilla Wax, Kaolin Clay, Sea Clay, Broccoli Seed Oil, Hempseed Oil, Shea Butter, PEG-40 Hydrogenated Castor Oil, Polysorbate 80, Essential/Fragrance Oils, Glycerin, Pink Himalayan Sea Salt, Optiphen Plus.
Templeton Tonics have done a great job to create a great performing product that delivers a strong long lasting hold from mostly naturally derived ingredients. The nutrient dense ingredients like broccoli seed oil, hempseed oil, kaolin, and sea clay will help to keep your hair healthy and nourished.
Washability 8.4/10
It has some resistance to water, so you're hair might be left a bit oily after washing out, unless you use a shampoo. 
Finished Look 9/10
Oasis gives a resilient gritty hold with loads of texture and great volume potential with a light weight matte finish. I found I got the best finish when applying to damp and then blow drying. I think when used like this it is suitable for all hair types, but like with most other lightweight products, longer length hair styles will probably need some reworking throughout the day. 
I had some calm days where I didn't touch my hair all day and it pretty much looked exactly the same as the morning. On the busy, windy or wet days, it did lose a bit of the matte texture and volume, but it still held my hair back out of my face, and only needs a bit of reworking to make it look good again. 
I think for most people with short to medium length hair, Templeton Tonics Oasis Clay is enough to get you through the day. Performance in longer hairstyles might be a bit more variable, but in my experience that's pretty normal. When applied to clean hair and styled right it can look good all day without getting too oily by the end.
After a 14 hour day, including 10 hours at work:

Would I buy it again 
Yes, this has been one of the best products to date (if not the best), that I have ever used. However, I have seen that there have been some slight differences between batches, which might make the product's performance vary. 
Is it right for you?
Follow the steps below First, identify whether you have fine, normal, or thick (coarse) hair, and focus on that part of the table. Second, do you have short, medium length, or long hair? Third, consider whether the price matters to you, such as;
If you're on a tight budget, the value to you is in the Budget row
If you're just the regular guy and want to invest in some quality hair products, the value to you is in the Normal Pricing row.
If the price doesn't matter and you just want the best products, the value to you is in the Price isn't an issue.
Match your hair type to your price preference, to see a rating tailored to your requirements of a product. Note: Value Ratings are out of 10

I've analysed the product with considerations that affect people's different hair types, as well as price preference. Every product works differently for different people, so I've added variables into my ratings to offer you a unique rating customised your budgetary needs and hair type, to hopefully give you a better indication of whether it's right for you.
RECOMMENDATIONS
Oasis Clay offers a pretty comprehensive service. However, if you're looking for something a bit more relaxed and casual, you may want to check our my reviews on King Brown Cream Pomade and Arcadian Clay Pomade.
Thanks for reading, please let me know in the comments about how well this review worked out for you. If please let me know if you have any feedback on the criteria for the unique value chart