Black Label Black Mist – Pre styling Sea Salt Spray
Value Ratings
OVERVIEW
Suited for: All Hair types
Finish: Dry Matte
Hold: Flexible 
Ingredients: Potentially Damaging to the hair
Best suited for: Messy/Beachy looks. 
The Black Label Black Mist is a pre-styling sea salt spray. Applying BlackMist to damp hair before blow-drying helps to add texture and volume to your hairstyle. It has an added fixative to help boost the appearance of natural hold and also works as a great foundation for further styling and cocktailing with other products. It adds long-lasting texture and a flexible hold which makes it a versatile product that can be used with a range of different styles. 
Summary of Performance
As a sea salt spray, it works really well, unlike many other sea salt sprays it actually gives a beach feel that IS NOT greasy, which is nice. I grew up by the beach so I like having that feeling and texture when I can't be at the beach. 
From what I have tried and seen, it is the only product from the Black Label range that is actually any good or worth using. However, although BlackMist does deliver nice styling results and convenience, it is very drying and feels quite chemically. To the point where it sometimes stings my scalp when I apply directly to the roots, and when I for long periods of time, it feels like the health of my hair starts to decline. If I have short hair and got it cut regularly, I probably wouldn't mind so much. But I've been growing out my hair and trying to look after it for 9 months now, so it's a huge downside for me, even though I like its styling results. 
Black Mist is labeled by Black Label as having heat protection, but I think the harshness of the product does more damage than the heat styling, so this is a moot point. One thing I don't appreciate about the brand Black Label is that they are very misleading and use flash marketing and false claims to get sales. They compensate for their products' lack of quality using marketing. I'm not saying their products are terrible, they just aren't as good as Black Label makes them seem, and for the quality of the ingredients and performance, they are a bit overpriced too. 
Now if you don't mind that and just care about the styling performance, keep reading, because the rest of this post will break down my own personal experience using the Black Mist Prestyling Sea Salt Spray and review in detail the performance of the product.
PRICE RANGE 7.1/10
Premium Range $$$
Typically around $24 in the USA and £15 in the UK.
For the volume, you get of the product and the little amount you need for application, Black Labels Black Mist is pretty good value. However, from a quality point of view, it is not very good value. From my experience, Black Labels products aren't very good for your hair, and for the same price, you can get much better quality products if you don't mind getting a bit less product.
To me, it feels like a mid-range product competing in a premium price ranging. And for the money, I would much rather buy something like the Label.men Thickening Tonic.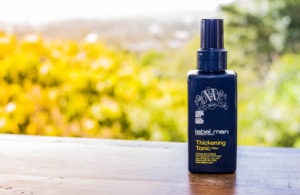 Label M Thickening Tonic
Review my review | View on Amazon:  https://amzn.to/2X5Tyv1
IDEAL HAIR LENGTH
As a pre-styler, Black Label's BlackMist Sea Salt Spray delivers good styling results for any hair length. 
GOOD FOR
Creating dry messy beachy matte finishes with lots of textures. 
I have enjoyed using in longer hair as my only styling product, because it is lightweight and gives just enough hold and texture for a nice relaxed messy look style that keeps my hair from falling in my face. However, it also works well for shorter hairstyles too, and the structure it gives, meaning you don't always need to add a post styler.
WHAT DOES IT DO?
Black Mist helps to add good volume and structure to the hair which as a pre-styler, makes it good for lots of styles. Because it is in liquid form using a blow dryer to style your hair, the water evaporates, leaving a lightweight and texture filled hold while leaving the hair flexible. The fixative ingredients and matte effect also help to make the hair look fuller.
WHERE TO BUY
Available on Amazon: 
Black Mist Prestyling Spray by Black Label – https://amzn.to/2M5iTTZ
Alternatives:
Label.men Thickening Tonic – https://amzn.to/2X5Tyv1
EASE OF USE 9/10
Easy to use, but not worth buying unless you will use a hairdryer. 
While typically with pre-stylers, they only deliver good results when using a blow-dry, this also works well when allowing the hair to dry naturally.
HOW TO USE
Spray 3-5 pumps directly into damp, towel-dried hair, distributing it evenly. Then use a hairdryer to blow dry into position until your hair is completely dry. Once dry apply a small amount of your post styling product (like a clay, paste, or whatever you prefer.) to finish the style.
For relaxed styles you can also try after applying to damp hair, just combing it back into place and leaving it to dry naturally. 
AMOUNT OF PRODUCT USED PER APPLICATION
A little. 
For a 150ml bottle, using 3-5 sprays is a lot, so even if you're using it regularly, it lasts quite a long time.
PRODUCT CONSISTENCY
Watery Liquid.
SCENT 7.2/10
Sandalwood
The smell is quite strong. It does smell quite good and manly, although it does smell a bit synthetic. 
PRODUCT PERFORMANCE 7.4/10
The styling performance is pretty good. It adds good long lasting structure and texture to the hair that helps to keep styles looking fresh for longer. The dry matte finish helps to balance out the finished look by reducing the shine of other products. 
HEALTH BENEFITS
None. 
Looking at the ingredients, makes me think I should change this title because it has no hair health benefits. It feels like it has hair health detriment. The ingredients list is very chemically, and quite harsh. The styling results are good, but even after washing it out, it makes my hair feel dry and damaged. 
WASHABILITY 6.8/10
Hard to wash out.
It's a good shampoo to completely wash this product out.
INGREDIENTS 3.5/10
BlackMist Ingredients – Aqua, Alcohol Denat, Sodium Chloride, Magnesium Sulfate, PEG-40 Hydrogenated Castor Oil, VP/VA Copolymer, Parfum, Phenoxyethanol, Hydrolyzed Wheat Protein, Panthenol, Potassium Sorbate, Cocamidopropyl Betaine, Ethylhexylglycerin, Hydrolyzed Wheat Starch, Sodium Benzoate, Methlyparaben, Ethylparaben, Butylparaben, Propylparaben, Linalool, Limonene, Hexyl Cinnamal, Hydroxyisohexyl 3-Cyclohexene Carboxaldehyde, Citral.
WOULD I BUY AGAIN?
No. I think the performance is nice and I really like the finished result, but it just feels too harsh on my hair. When I use it, the health of my hair just feels like gets worse quite quickly.
VALUE CHART
Is it right for you? Find out below by looking up the rating out of 10 for your hair type.