VALUE RATINGS
For the average hair type

(rating 7.5/10), Firsthand Supply's All Purpose Water Based Pomade is a versatile product well suited for various styling options. If you like a slight shine in your hair, it could make for a good daily driver.  

If you're on a budget

(good value rating 7.2/10) and just need a product to cover the essentials then the All Purpose Pomade does that, but it has a range of premium ingredients and benefits, which of course increases the price. 

If price isn't an obstacle

and your opinion of value is just the product's quality (your expected value is 8.7/10), this All Purpose Pomade could be a good little addition to your rotation. 
OVERVIEW 
Suited for: Short to medium length hair
Finish: Slight shine
Hold: Long lasting firm hold
Ingredients: Good for you hair
Suited Style: Polished and clean looks
The All Purpose Pomade is one of Firsthand Supply's original products. Formally known as the Water-Based Pomade, the product was re-released with new branding, packaging, and scent. It is said to have the same functionality and application as before, however, I only have experience using the updated All Purpose Pomade, which I do quite like. 
The Firsthand All Purpose Pomade is actually branded quite accurately. Using a quality range of ingredients, it offers long lasting firm hold, giving off a slight shine. The shine is slightly higher than a natural shine, however, if you are ok with that, the pomade works well in both damp or dry hair offering a versatile range of styling applications. As many pomades are intended, it excels in more classic and tight looks such as slick backs, however, when used as a prestyler, it is also boosts texture and the structure it creates is also great for messier or volumized styles. 
PRICE AND AFFORDABILITY 7.7/10
$$$ Premium Price Range
Priced from $20 USD (£19) for 88ml, it is a reasonable price to buy which is affordable. Its a pretty standard price for a premium pomade, but in my opinion, you don't need to apply a lot of the product per application, which makes it stretch a little longer. Although I typically use the All Purpose Pomade in conjunction with another product (Aveda Thickening Tonic – to reduce shine and boost texture for a more natural look) its all round performance makes it a solid solo daily driver, meaning you don't need to buy lots of different products for different occasions. 
WHAT IS IT
The First First Supply all purpose pomade is very much what it appears to be.  It is a pomade-like hair styling product with a smooth waxy feel, that by default delivers a low shine finish. It is quite firm to the touch, and once emulsified applies quite easily to damp hair. When apply to dry hair it has a bit more tact, but can still be worked in gently. The firm hold is long lasting, and its performance as both a pre (on damp hair before blow drying) and post styling (on dry hair) product gives it versatile styling options.
WHO IS IT FOR 
In its simplest of uses as a solo styling product, it is best suited for normal to thick, short to medium length hair. It works best for clean and polished looks like slicked back, pomps and neat side parts. For more texture and volume you can apply a small amount in damp hair and use a blow dryer and a round brush to style as desired.
If you're ok with a bit of shine, I think it's versatility makes it a good choice for the average guy.
HOW AND WHEN TO USE IT
For clean and polished looks:
Scoop a pea-size amount of product and emulsify in hands. Apply evenly in damp or dry hair and work it in from back to front then side to side. Style to preference and apply more as needed.
Tip: if you're applying to damp hair, and allowing to dry naturally, the more you add and the wetter the hair, the more shine you'll get from this product.
For other styles:
Emulsify and apply a small amount evenly to damp hair. Then use a blow dryer and brush to work in the desired shape until your hair is completely dry. This method also helps to reduce the shine in the finished look. 
I like to use it with Aveda Thickening Tonic in damp hair before blow drying to achieve more of a natural looking and casual styled finish.
For best results, apply to clean hair, as second day build up can make the finished look overly greasy.
WHERE TO BUY IT
It is available from the US, UK, and EU online for reasonable shipping and prices. It is also widely available in many independent salons, and their brand's Toni and Guy salons. 
You can find it in Amazon in the US by clicking here – https://amzn.to/3iTUa0p
You can find it in Europe and the UK here – https://www.slikhaarshop.eu/firsthand-supply-all-purpose-pomade/
HOLD 7.1/10
The hold of the Firsthand Supply All Purpose Pomade is quite firm and boosts the structure to your hair which makes it more durable. For a pomade, it is fairly lightweight, so it can still be good for adding in some volume too. When used in small amounts as a prestyler before blow drying, it is also good for messy or more volumized styles (if you're going for more volume, you might also need to finish with a light dose of hairspray).
APPLICATION 8/10
Upon scooping the Firsthand All Purpose Pomade from the jar and applying, you can feel the creamy waxy thickness which coats the hair well, adding long lasting structure.  
If you use a lot of the pomade, you can feel the tact and thickness of the product in your hair. However, since the hold is quite firm, you really don't need a lot of product to achieve a good hold.
In my personal experience, the All Purpose Pomade delivers pretty consistent results. So once you know which styles it works for, it is quite a reliable go to product.
Application in damp hair is easy, and if you only use a small amount, it is still easy to blow dry and shape with a brush.
Application in dry hair can be a bit rough, but if you apply a small amount and more as necessary, you can still gently work it through your hair.
After applying in before and after blow drying:
SCENT 6.8/10
Scent (essential oil blend): Bergamot, Juniper Berry, Lavender, Wormwood, Palo Santo  
The all purpose pomade smells clean and fresh with a natural earthy herbal scent derived from a mix of essential oils. The aroma is quite strong out of the jar, but subtle once the pomade is applied to the hair. Personally, it's not my favorite scent, since it's smells very natural, it was easy for me to get used to.
DURABILITY 7.5/10
Unlike a lot of products, the hold of Firsthand's All Purpose Pomade is fairly resistant to reworking, and stays present in the hair for a long time. Once applied to the hair, the hold and product is quite durable.
For slicked back and shiny styles you can use more product which keeps the hair locked in place. For messy, textured or volumized styles, throughout the day they will most likely require a bit of reworking, but that is fairly typical for those types of styles (unless you use lots of hairspray). The biggest plus is that the hold is durable and is still good after several reworks. 
I would say that the Firsthand Supply All Purpose Pomade is lifeproof. 
INGREDIENTS 9.7/10
The All Purpose Clay uses quality ingredients to deliver a quality product. Firsthand have balanced the ingredients very well to promote healthy hair while still providing a strong long lasting hold. And as a pomade homebrewer myself, I can say that is difficult to achieve with mostly natural ingredients.
Every product by First Hand Supply is free from parabens, sulfates, phthalates, dyes, and is always 100% cruelty-free, you can view their full product range on Amazon by clicking here
.
Key Ingredients
Beeswax: Provides hold, facilitates styling, stimulates hair growth, and locks in moisture. Can help soften your hair with regular use.
Shea Butter: Soothes irritated scalps and works as an anti-dandruff remedy. Tames unruly hair, and protects from damaging elements.
Grapeseed oil: Aids in preventing frizz, split ends, and brittle hair. Promotes healthier looking hair.
Full Ingredient List: Aqua (Water), Aloe Barbadensis Leaf Juice*, Cera Alba (Beeswax), Euphorbia Cerifera (Candelilla) Wax*, Soy Lecithin*, PEG 40 Hydrogenated Castor Oil*, Butyrospermum Parkii (Shea) Butter*, Prunus Armeniaca (Apricot) Kernel Oil*, Vitis Vinifera (Grape) Seed Oil*, Sodium Borate, Glycerin*, Simmondsia Chinensis (Jojoba) Seed Oil*, Essential Oil Blend*, Tocopherol (Vitamin E) Oil*, Sea Salt, Citric Acid*, Phenoxyethanol, Caprylyl Glycol*, Sorbic Acid*
*Plant-based ingredient.
WASHABILITY 7.2/10
It has some resistance to water and humidity, which keeps the hold in effect longer. However when mixed with sweaty it tends to make the have look quite greasy. 
I feel rinsing the product out with warm water still leaves my hair a bit greasy, but with the use of decent shampoo it washed out without a problem.
FINISHED LOOK 8/10
When applied in small amounts before blow drying your hair, the hold locks in the shape of the hair quite well with a more natural finish, good for shorter messy styles, or loose longer styles. When using the All Purpose Pomade to style my hair, I usually use a thickening tonic too, because it helps to add a bit more of a textured and matte finish. Those are my preferences. I find that it locks in the shape created by the blow dryer quite, well which makes it easy to rework when needed.
It also works well, as advertised, locking in place slick, clean and polished looks, however, these styles result in more shine.
After a day at work:
WOULD I BUY IT AGAIN 
No. I think it's a great product, and I enjoy using it, but for my fine blonde hair, I generally prefer matte finish products designed for messy styles. When I used the All Purpose Pomade with a thickening tonic, it does give it more of a matte finish. However, I have to wash my hair everyday when I use it because otherwise the build up of greasiness makes my hair look darker and more transparent.
Is it right for you?
Follow the steps below First, identify whether you have fine, normal, or thick (coarse) hair, and focus on that part of the table. Second, do you have short, medium length, or long hair? Third, consider whether the price matters to you, such as;
If you're on a tight budget, the value to you is in the Budget row
If you're just the regular guy and want to invest in some quality hair products, the value to you is in the Normal Pricing row.
If the price doesn't matter and you just want the best products, the value to you is in the Price isn't an issue.
Match your hair type to your price preference, to see a rating tailored to your requirements of a product. Note: Value Ratings are out of 10
I've analysed the product with considerations that affect people's different hair types, as well as price preference. Every product works differently for different people, so I've added variables into my ratings to offer you a unique rating customised your budgetary needs and hair type, to hopefully give you a better indication of whether it's right for you.
RECOMMENDATIONS
A similar product that you might like check out is Lockhart's Transcend Wax Clay Hybrid:

Lockharts Transcend Wax Clay Hybrid
Read my review | View on Amazon: https://amzn.to/3mWvWov
For those with finer hair or who like more natural looking finishes, Aveda Thickening Tonic is a great co-styling product that complements Firsthand's All Purpose Pomade very well: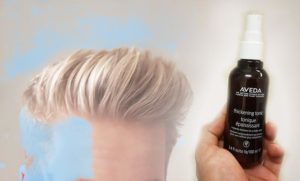 Aveda Thickening Tonic
Read my review | View on Amazon: https://amzn.to/37cn71V
Thanks for reading, please let me know in the comments about how well this review worked out for you. If please let me know if you have any feedback on the criteria for the unique value chart