For the average hair type

(rating 7.0/10), Label.m Matte paste can tick a lot of boxes, and is well suited for shorter hair types.  

If you're on a budget

(good value rating 8.3/10) and just need a product to cover the essentials then the Matte Paste can be quite accommodating. It is available at an affordable price point and can deliver good results for the money. 

If price isn't an obstacle

and your opinion of value is just the product's quality (your expected value is 6.3/10), then this product may just sit unused on the shelf, because there are probably other products out there that can offer a more premium experience.
OVERVIEW 
Label.m matte paste is a salon product born in the UK, commonly used and found the company's Toni and Guy salons (their other brand). Unlike many other styling 'pastes' out there, Label.m's matte paste actually looks, feels and responds like a paste. 
Label.m is a fairly well known brand due their use in their Toni and Guy salons. I think their matte paste is a well rounded product made by experts composed of quality ingredients to deliver reliably decent results on a profitable mass scale. I think their Matte Paste reflects this with reliable above average durability and performance, a lightweight medium hold and slightly greasy low shine finish. It is the type of product that could be used by lots of people with shorter hair styles (2-4 inches) as an uncomplicated solo go to daily driver.
PRICE AND AFFORDABILITY 7.2/10
$$ Mid Range Price 
Priced from $13 USD (£11) for 50g, it is a reasonable price to buy which is affordable. The value is a bit misleading because it's only a small 50G jar, so price per gram is similar to that of many more premium products. However, you don't need to apply a lot so it still lasts a while. Also, for simpler and more casual styles you can use this as your only product, which can be a bonus.
WHAT IS IT
Label.m Matte Paste is pretty much what it sounds like, it is a hair styling product with a pasty texture and feel, that mostly delivers a matte finish. It is quite firm to the touch, and once emulsified applies quite easily to the hair. 
The hold is quite firm and lightweight so it is good and durable for shorter hairstyles, but lacks the structure and texture to support longer hair. This finish is implied to be matte, however, I find it is more a low sheen finish in my blonde hair, however, it more appears as more of a natural shine in other hair colours.
WHO IS IT FOR 
Lable.m Matte Paste is best suited for shorter (2-4 inches long) and less complex hair styles, i.e. short messy quiffs, textured fringes, etc. Its lightweight quick drying formula is good for building and maintaining quick and easy styles and doesn't depend on prestylers and blow dryers to work. I think this is what makes it an appealing and uncomplicated option for the average guy.
HOW AND WHEN TO USE IT
To apply, spread on your hand well and rub it across both palms, distributing the product quickly and evenly throughout dry and damp hair. Start with the back of your head and work your way to the front. Make sure it is emulsified well in your hands (rubbing product between hands until clear) to avoid a claggy application.
For best results apply to completely dry clean hair otherwise it can appear a bit greasy if left in damp hair to dry naturally. It's matte finish and firm in clean hair, but can be greasier and less consistent when applied to dirty hair. I find it works better when used as the only styling product, as it doesn't perform the same when cocktailed with other products. For a bit of added structure and hold you can also use a bit in damp hair before blow drying to help achieve longer lasting shape and volume.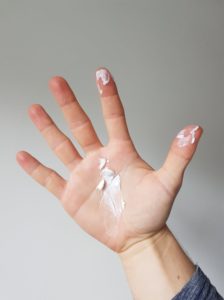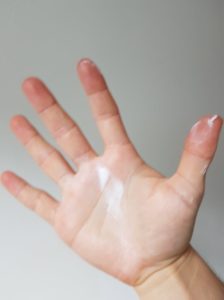 WHERE TO BUY IT
It is available from the US, UK, and EU online for reasonable shipping and prices. It is also widely available in many independent salons, and their brand's Toni and Guy salons. 
US and UK: Amazon https://amzn.to/2VjyWQN
HOLD 6.1/10
Upon the initial applications you can feel the activation of a strong hold and tact straight away, but this tact fades the more the hair is reworked leaving a slightly more natural feeling.
Label.m Matte Paste holds your hair's style shape quite well, and when you combine that with its lightweight formula it gives off a high holding effect for short to medium length hair. But once your hair gets longer, it doesn't have enough structure and hold to support the weight. 
APPLICATION 8/10
The Label.m Matte Paste is quite firm out of the jar. The initial breakdown is a bit difficult, taking a good amount of rubbing between the hands to emulsify it. But then it glides into the hair with very little tug. Upon application hold activates pretty quickly, so it's better if you shape your desired end style while working the product into the hair.
After applying in dry hair after blow drying: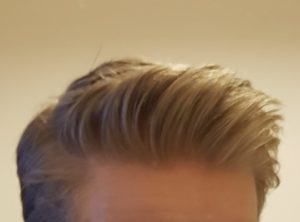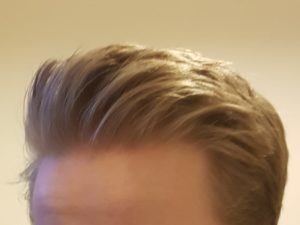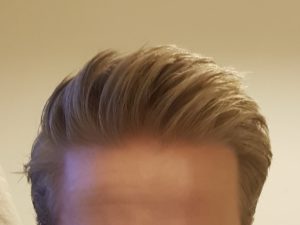 SCENT 4.8/10
The matte paste, not only feels like a paste, but it also smells like a paste with a faint chemically smell. It's not the most appealing, but it's also not very strong and not really noticeable once applied to the hair. So it shouldn't really be an issue.
DURABILITY 7.8/10
The shape and structure the Label.m Matte Paste gives to the hair can be quite durable. For shorter styles it can last through most activities, but of course, it gets a bit greasy the more it needs to be reworked. Since the paste gives quite a lightweight hold, you might still find your hair falling apart throughout the day. 
I was surprised with how lifeproof Label.m Matte Paste actually was, for months with my short hair, it actually became my daily driver. For the messy quiff I like to shoot for, it became easy to use and quite reliable. The finish wasn't always the best (because it's sometimes a touch greasy), but it was convenient to only need 1 product to achieve a decent style. 
If your hair is on the longer side, I would say this product isn't durable enough to get you through the day. But pastes are considered a short hair product anyway, so that's not unexpected. 
INGREDIENTS 8.0/10
Label M is a reputable brand with people who know what they are doing, so you can be rest assured that it won't damage your hair. While the brand does claim to create products to promote healthy hair, I don't think the matte paste improves the health of your hair, it just maintains the hair's current health. The Matte Paste's ingredients help to coat and protect the hair from environmental damage, which I find handy when I use it as a pre-styler, because it gives me a barrier of protection from the heat styling. 
Key Ingredients:
Malachite, rhodochrosite and oxokerite minerals actively detoxify and protect hair whilst creating an individual edgy matt texture on your hair. Shielding against UV rays and exclusively containing the Enviroshield Complex, this paste allows you to mould and shape your short hair into many styles.
Aqua (Water/Eau), Hydrogenated Castor Oil, Cetearyl Alcohol, Caprylic/Capric Triglyceride, Ricinus Communis (Castor) Seed Oil, PEG-40 Hydrogenated Castor Oil, Beeswax/Cera Alba/Cire d' abeille, Propylene Glycol, Ethylhexyl Palmitate, Copernicia Cerifera (Carnauba) Wax/ Cera Carnauba/Cire de carnauba, VP/VA Copolymer, Octyldodecyl Stearate, Tribehenin, Kaolin, Butyrospermum Parkii (Shea) Butter, Glyceryl Stearate, PEG-100 Stearate, Ozokerite, Rhodochrosite Extract, Malachite Extract, Hydrolyzed Soy Protein, Persea Gratissima (Avocado) Oil, Malpighia Glabra (Acerola) Fruit Extract, Olea Europaea (Olive) Fruit Extract, Glycerin, Bambusa Vulgaris Leaf/Stem Extract, Polysilicone-15, Fragrance/Parfum, Hydrolyzed Rice Protein, Cocos Nucifera (Coconut) Fruit Extract, Phenoxyethanol, Butylene Glycol, Hydroxyacetophenone, Caprylyl Glycol, Methylparaben, Propylparaben, Acrylates/Vinyl Isodecanoate Crosspolymer, Triethanolamine, Linalool, Citronellol, Limonene, Iodopropynyl Butylcarbamate.
WASHABILITY 8.4/10
It has some resistance to water and sweat. In fact, I even feel like it reacts with the sweat and boosts the hold and messy texture at times. I feel rinsing the product out with warm water still leaves my hair a bit greasy, but with the use of decent shampoo it washed out without a problem.
FINISHED LOOK 6.4/10
When applied to blow dried hair, the light formula locks in the shape of the hair quite well, good for shorter messy styles. Although it is called Label.m Matte Paste, it does give off a slight sheen and greasy feeling, but it is usually an acceptable amount. I usually style my hair using a thickening tonic, because it helps to add a bit more of a textured and matte finish, but apart from thickening tonics, the matte paste doesn't really mix too well with other products. 
When my hair is short, Label.m Matte Paste helps to maintain the shape I created in my hair from blow drying throughout the day. The lightweight hold allows for movement and the structure is enough to keep reworking the style and for maintaining volume. That said, the lightweight hold is also the reason the product doesn't work in longer hair styles, because it can't support the extra weight and stop the long hair from falling apart. 
After a day at work: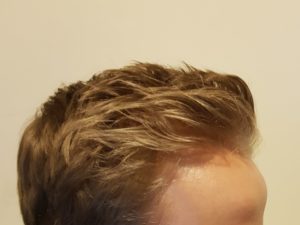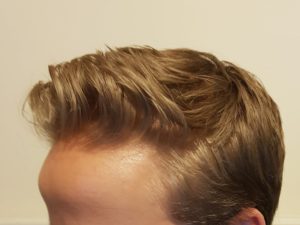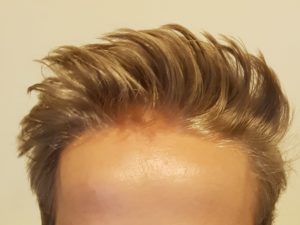 WOULD I BUY IT AGAIN 
Probably. As far as pastes go, this is one of the few pastes I have tried that is actually like paste and that gives consistent results. Its lower price point makes for a good little addition to the rotation, and the smaller jar and independent styling results make it good for travelling. Although I often prefer other more premium feeling products, I keep coming back to this when I feel lazy.
Is it right for you?
Follow the steps below First, identify whether you have fine, normal, or thick (coarse) hair, and focus on that part of the table. Second, do you have short, medium length, or long hair? Third, consider whether the price matters to you, such as;
If you're on a tight budget, the value to you is in the Budget row
If you're just the regular guy and want to invest in some quality hair products, the value to you is in the Normal Pricing row.
If the price doesn't matter and you just want the best products, the value to you is in the Price isn't an issue.
Match your hair type to your price preference, to see a rating tailored to your requirements of a product. Note: Value Ratings are out of 10

I've analysed the product with considerations that affect people's different hair types, as well as price preference. Every product works differently for different people, so I've added variables into my ratings to offer you a unique rating customised your budgetary needs and hair type, to hopefully give you a better indication of whether it's right for you.
Thanks for reading, please let me know in the comments about how well this review worked out for you. If please let me know if you have any feedback on the criteria for the unique value chart