Advice on the best products to help manage fine or thinning men's hair
If you're a guy with fine thinning hair, you probably already know how hard it is to find a good hair styling product you can rely on. And this is why I use a combination of different products to create the desired hairstyle I can rely on. 
As a fellow man with very fine hair, using a single styling product was never enough to get my hairstyle through the day. I tried so many products in different ways but it would either weigh my hair down on make it look even thinner. 
This is when I realised the method is more almost more important than the product. Before I go into the products you should have on your shelves. To get the most out of your hairstyle, you would be using a pre-styling product (a specialised product designed to be used in damp hair), blow-drying your hair while shaping it with a brush, and then apply a smaller amount of your styling product (i.e. a clay, wax or paste), if needed, in your dried and shaped hair to lock in the style. 
Ok, so that's my little side tangent, but you must have come here because you want to know what products can help you to manage and deal with your fine or thinning hair. Basically, the moral of the recommendations is to aim for a lightweight matte finish. Any product with any level of shine will make your hair look thinner. So if you're now sure how to style your fine or thinning hair, just make sure to choose products that give a matte finish.
And without further ado, the following products, are a list of must-have items for men that will help to keep your hair looking fuller and make styling easier. 
Must-have products for men with fine or thinning hair:
(In order of must-have)
1. Thickening Tonic 
What is a thickening tonic?
A Thickening Tonic is typically a liquid gel spray that is intended to build thickness and volume, for matte finish styles. By applying to damp hair before blow-drying, a good thickening tonic can make your hair appear much fuller, which boosting texture and volume, which help with styling your hair too!
Using a thickening tonic revolutionised my hairstyles. It allowed me to achieve so many styles that would not have otherwise been possible, and it made me feel so much more confident about my hair. The tonic coats the hair making it appear thicker and this the head of hair fuller. 
Recommended Thickening tonic: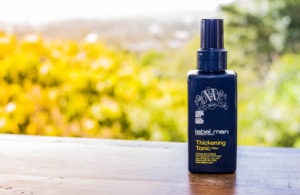 Check out my review here | Buy on Amazon 
The Label.men thickening tonic is great. It's one of the few products I would continue to repurchase. For a reasonable price, it helps to thicken the appearance of my fine hair while boosting texture. It's been a part of my regular routine for years, so I would highly recommend this if you're struggling with fine hair. 
Benefits of a thickening tonic:
Makes your hair look thicker

Boosts volume and texture

Helps achieve a matte finish look

Added structure helps your hairstyle last longer
If you're willing to pay a bit more and want a more premium alternative, Aveda Thickening Tonic is also a great way to go (if you want to compare, I have a review here too).
2. Dry Shampoo
What is dry shampoo?
Dry shampoo is a product that helps to reduce the appears of excess oils, grease and dirt in your hair. It is typically a powdery substance found in either an aerosol spray or powdered form. Unlike traditional shampoos, dry shampoo, as you might have guessed, can be applied to dry hair and doesn't require you to rinse it out straight away. 
Why is dry shampoo good?
It's great when you're in a hurry or want to skip a shower, and the reason why it's so great for guys with fine or thinning hair is that it coats the hair making it look thicker, and can help to achieve or get back a matte finish look. 
It's not a direct alternative to shampoo, because overtime it does add to the build-up over time and it doesn't actually clean your hair, it just makes your hair seem cleaner and fresher. 
But, if you're dealing with second-day hair and don't have time to wash your hair but your hair looks greasy, then dry shampoo is a great help. It's also good when you accidentally put in too much product or get too much shine, just spray a bit of dry shampoo in and it saves the day. 
Recommended dry shampoo:
3. Texture powder 
What is hair texture powder?
Similar to dry shampoo, texture powder found powder form and helps to reduce excess oils and greasiness. The key difference, is texture powders typically give a lot more texture and help create more volume and lock in a style.  
It is a highly concentrated powder, which is ground so finely you only need to sprinkle a small amount evenly across your hair add loads on texture and create a matte finish. 
Men's advice for using hair texture powder:
For best results only apply texture powder to dry hair.

For shorter hairstyles, sometimes applying just a bit of texture power all you need to style your hair. 
Recommended Hair Texture Powder:
While I have specific recommendations for Thickening tonics and dry shampoo, texture powders are pretty simple products, most only consist of about 4 ingredients, so while there are definitely some better ones out their, drug store texture powders for less $5 work really well, like Got2b Powder'ful (link to Amazon). But if you want to try something more, check out:
What about the best styling products for fine or thinning men's hair?
Well, this is a lot more specific, the products above are great for aiding hairstyles, but for main styling products, results vary a lot from person to person. Like I mentioned above, if you're battling fine or thinning hair to help it look fuller, you should aim for a lightweight matte finish. From my experience, here are some great products to help you get the most out of styling your fine hair. 
Best All-Round Styling Product for Fine men's hair:
https://www.comparegrooming.com/templeton-tonics-oasis-clay-review-worth-the-hype/ 
Templeton Tonics have done a stellar job with this one. Oasis Clay hand down is one of the best products I have ever used. The hold is brilliant giving a durable, matte, reworkable and long-lasting finish to get you through the entire day. It is made from premium ingredients looking after that hair of ours, and a selection of scents to please everyone. Since it doubles as a matte finish pre and post styling hair product, I went from using about 3-5 at once products to get a style that might get me through the day, to a single product that powers through comfortably. Just apply in damp hair, blow-dry and then the hold is so good, most times you won't even need to apply any more. 
Styling result of Templeton Tonic's Oasis Clay: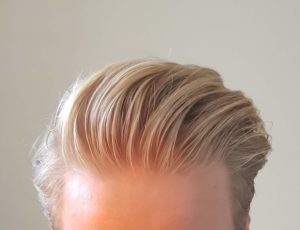 Read more in my in-depth review here
Best Pre-Styler for fine men's hair:  
Overall Blumaan have done a really good of making their Original Styling Meraki a valuable addition to any man's product collection. It's the ability to double as a pre-styler and heat-protectant makes achieving the desired style much easier. Its natural finish makes it a great pre-styler for just about any hair type. Combined with 4-6 evenly distributed sprays of Lable.men Thickening tonic to boost structure and texture, you get a nice natural matte finish after blow-drying. For short casual styles, I find this is enough to get my hair through the day without needing a post styling product. And if my hair starts to fall a bit, I simply pull some texture powder out of my backpack, apply a few sprinkles to the roots of my hair, work it through with my fingers and my styles good to go. 
Styling result of Original by Blumaan
Read my detailed review of Original By Blueman by clicking here 
  + 
= my all-time favourite combo
Best Post-Styler for fine men's hair
None!
Avoid using products post styling (after blow-drying), unless it's a bit of texture powder because most styling products will weight done your hair or make it seem a bit greasy. For the best results, I suggest trying to experiment using your styling products with a thickening tonic in damp hair and then blow-drying. The hairdryer helps to evaporate the water from the product leaving behind a good hold with a lightweight finish. 
Good luck my friends. 
Let me know if you have any questions or advice requests in the comments below.